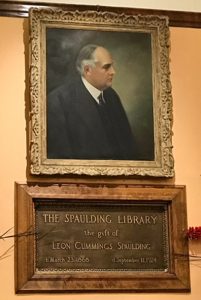 Mr. Leon C. Spaulding, a longtime summer resident of Sebago, felt the town needed a library, so he undertook the project of having the library built at his own expense. He and his brothers owned the Spaulding Fiber Company in Rochester, NH. Leon and his wife Dorothy first built Rockcraft Lodge in Sebago in 1917. Building began on Spaulding Memorial Library in 1923, on land donated by Harry Fitch.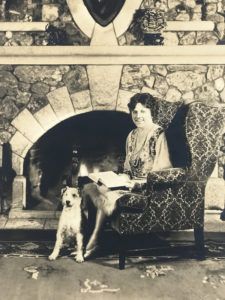 Harry and his wife Lillian lived across the street in a house that is now part of Sebago Elementary School. Carl Martin, a well-known local carpenter, was hired to be in charge of construction. Charles Stewart and LeForrest Cram, local stonemasons, were part of the construction team. Most of the building, and the fireplace inside, is built of fieldstone made from local stonewalls. Mr. and Mrs. Spaulding funded the entire process, which in the end cost about $25,000.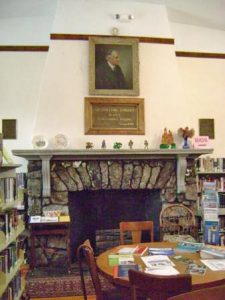 Mr. Spaulding passed away on September 11, 1924. Unfortunately the library was not yet completed. Mrs. Spaulding saw to its completion and served as one of its first Trustees, along with Ernest Dennen, Harry Fitch, George Laughton, Carlton Martin, William McDonald and Waldo Pratt. Mrs. Fitch was the first librarian.